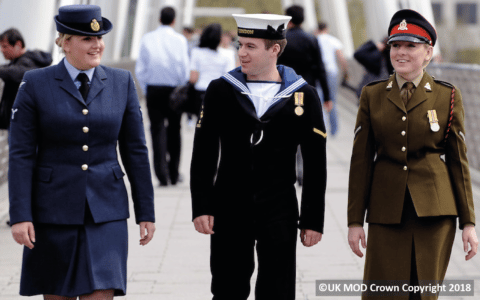 Reservists make up around one sixth of all Armed Forces personnel and as such play a vital role in protecting the nation's security at home and overseas.
June 27 is Reserves Day – the day Reservists can wear their uniform to work – and we're paying tribute to their hard work and dedication. After all, it's not easy holding down two careers.
Major General Ranald Munro CBE TD VR, Assistant Chief of Defence Staff (Reserves and Cadets), said: "Today is a special day in the Defence calendar. Reserves Day allows us to celebrate and thank Reservists and their employers for their immense contribution.
"Reservists are key to the defence of our nation. They are an integral part of our Armed Forces. They sacrifice their spare time to train so as to be able to support the Regular Forces on a wide range of tasks, including at times of crisis at home and abroad. In today's complex and unpredictable global security environment they ensure the nation can remain resilient against a myriad of threats. Every organisation, big or small, can make a difference in supporting Reserve service. I invite all businesses and organisations to join the 2500 other employers who have made the Armed Forces Covenant a priority and are standing firmly behind our Reservists."
In this section we profile three Reservists, one from each branch of the Armed Forces – Royal Navy, Army and RAF. #SaluteOurForces