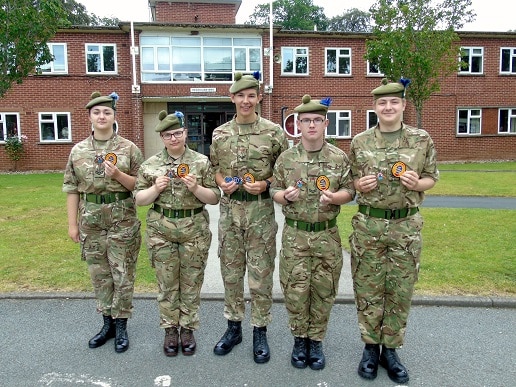 ---
Army Cadets from Moray and Ross-shire returned home as the top Scottish team in an international shooting competition.
Five cadets from 1st Battalion the Highlanders' represented the Battalion at the Inter-Service Cadet Rifle Meeting, held at Bisley Rifle Ranges in Surrey early last month. Cadet Corporal Jakub Bialkowski (16), Cadet Corporal Jennifer Calder (16), Cadet Corporal Leah Goodman (16), Cadet Corporal Ben Hayllar (15) and Cadet Corporal Andy Tait (16) represented the Battalion in the three day competition.
The team competed against 90 teams from the UK's three Cadet Services as well as teams from across the world. This year's competition included guest teams from the Royal Canadian Army Cadets and the Hong Kong Air Cadets.
As well competing for the team, they also competed individually in the Cadet 100 Competition with Cpl Tait, from Dingwall Detachment making it into the top 30 in 28th place.
All five cadets were presented with 'Bisley 2019' Badge for competing and a special badge to mark the 150th Imperial Meeting. Cpl Tait was also being presented with his Cadet 100 Badge and a NRA Skilled Shot Badge.
---