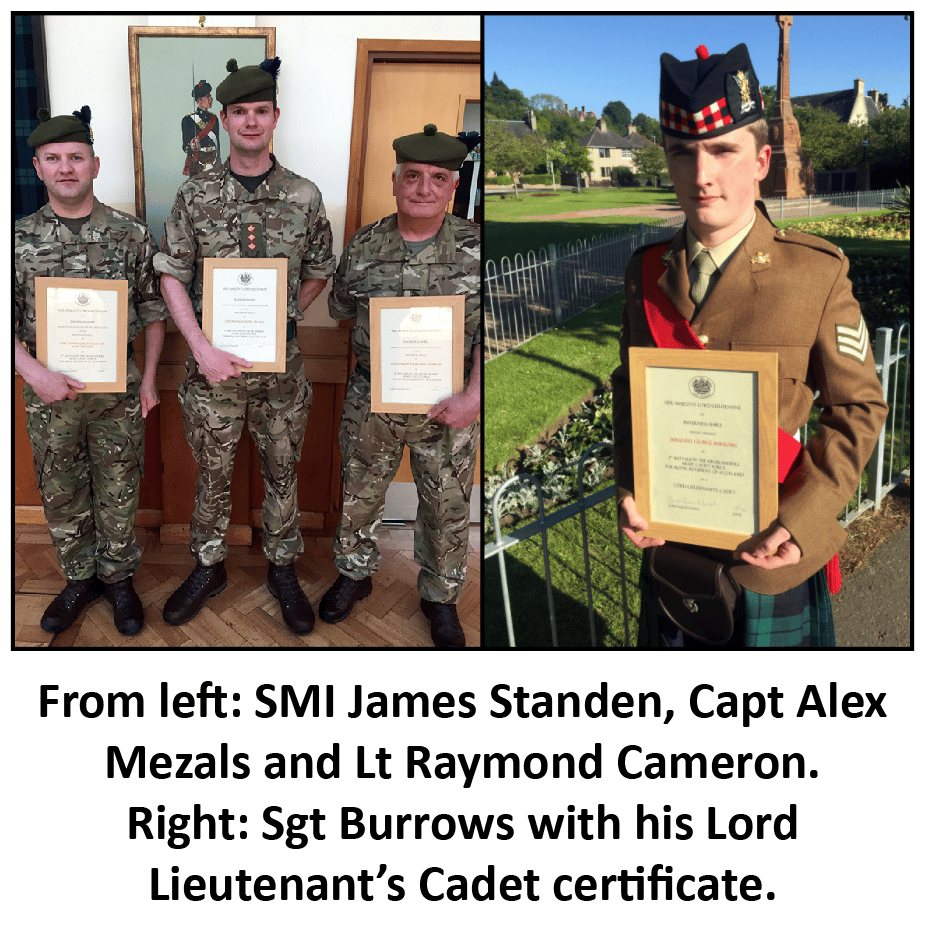 ---
A dedicated cadet and adult volunteers from 1st Battalion the Highlanders ACF have been awarded Lord Lieutenant's Certificates for their hard work to improving the lives of young people in the Highlands.
Cadet Sergeant George Burrows (17) and Captain Alexander Mezals (35), from Inverness Detachment, Lieutenant Raymond Cameron (56), from Fort Augustus Detachment and Sergeant Major Instructor James Standen (48), from Fort William Detachment were awarded the certificates from the Lord Lieutenant of Inverness-Shire, Donald Cameron of Lochiel at the battalion's HQ at Gordonville Road, Inverness.
Sgt Burrows was presented with a certificate appointing him as the new Lord Lieutenant's Cadet of Inverness-shire. Every year each area's respective Lord-Lieutenant appoints young people to serve as their Lord Lieutenant's Cadet. These young people are drawn from various youth organisations from across the area they cover. The year-long appointment will see George assist the Lord Lieutenant in his duties as Her Majesty The Queen's appointed representative for the area and will act as an ambassador for the Army Cadet Force and also the young people of Inverness-shire.
Capt Mezals, Lt Cameron and SMI Standen were all awarded Lord Lieutenant's Certificates of Meritorious Service for their services to the cadets. All three adults, who have a combined cadet service of 38 years, all hold different positions within Inverness Company. Alexander is currently Inverness Company's Training Officer, responsible for administrative duties within the company such as overseeing detachment training programmes and keeping cadet records up to date from testing sheets submitted by the company's six respective detachments. On top of this he is also the Detachment Commander for Inverness Detachment.
Raymond is currently the Detachment Commander for Fort Augustus and is usually one of the first adults to volunteer to assist in helping a cadet community event or a company training weekend, even if it is run for another company within the battalion. Raymond had several positions within the company over the years, including being Inverness' Company Sergeant Major prior to him being commissioned as an officer.
James is currently the Detachment Commander of Fort William Detachment, a position he has held since 2009. James has also held many positions within Inverness Company, including being the Company Sergeant Major. Up until last year he was also the battalion's Regiment Sergeant Major.
Following the presentation, Inverness Company Commander Major Kevin Reid was most pleased seeing everyone get the recognition they deserve. He said: "Sgt Burrows is well deserved. As for the three adults, that is three of the battalion's most committed and deserving individuals. It's thoroughly well-deserved and earned and I'm delighted they have been recognised for their unquestionable commitment to the company and battalion."
---