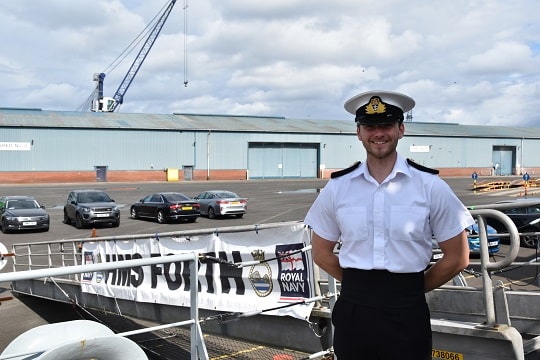 ---
Armed Forces friendly employers were invited to attend a reception and capability demonstration during a ship visit to the Port of Leith on 18 August.
The visit took place on board HMS Forth, the first of the Royal Navy's new Offshore Patrol Vessels (OPV). HMS Forth's remit is to protect our nation's interests at sea, whether this be safeguarding fishing stocks in UK waters, or offering reassurance and protection in the Falklands.
Guests were welcomed by Northern Regional Commander of Scotland and Northern Ireland Captain Chris Smith and HMS Forth Commander Bob Laverty as they enjoyed a drinks reception on deck before splitting into groups to tour the vessel.
Commander Laverty thanked guests for coming aboard and briefed them on the crew's travels thus far, including failed attempts at heavy weather training in Gibraltar due to glorious sunshine and escorting Russian warships through the English Channel.
The tours gave an insight into life at sea, from the sick bay and medical staff to the Captain's bridge and navigating equipment. It was an excellent opportunity to understand not only the mechanics behind HMS Forth, but the day to day life for those on board.
Following the tour, a live band provided music whilst guest enjoyed some afternoon tea prepared by the chefs on board.
HMS Forth with leave the Port of Leith on Thursday to set sail for more heavy weather trials – we wish them the best of luck and thank all of the crew on board for their hospitality.
Bon Voyage!
---