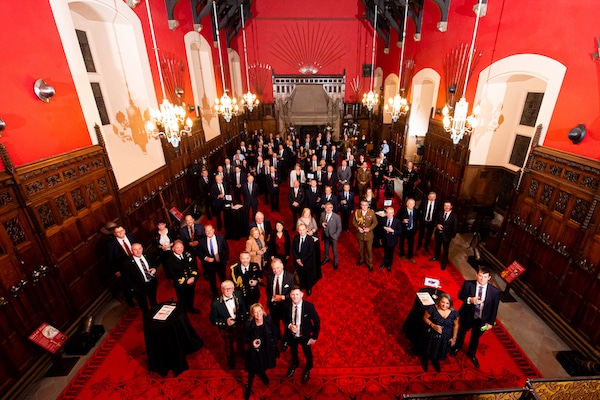 ---
Edinburgh Castle provided the stunning backdrop for the 2021 Defence Employer Recognition Scheme (ERS) Gold Awards.
The joint regional event on October 21 saw employers from the Highlands and Lowlands of Scotland, and the North of England recognised for the outstanding support they give to the Armed Forces Community.
Nationally, 140 organisations received the award.
Recipients in the Highland RFCA area (including two Gold holders who had their existing awards revalidated*) were: Dundee City Council*; Fife Chamber of Commerce; Highland Council; Horizon Security Solutions Ltd; McLeod Glaziers; Perth & Kinross Council; Scottish Ambulance Service*.
In addition, there were eight winners in the Lowland RFCA area and five in the North of England RFCA area (including one revalidation). For a full list of 2021 winners, click HERE.
Representing the highest badge of honour, Employer Recognition Scheme (ERS) Gold Awards are awarded to those that employ and support those who serve, veterans and their families.
This year's awardees brings the total number of Gold holders to 493.
Minister for Defence People and Veterans, Leo Docherty said: "I would like to thank all the organisations who have proven their support for the Defence community during such unprecedented and challenging times.
"The vast range of those recognised this year demonstrates how employing the Armed Forces community makes a truly positive and beneficial impact for all employers, regardless of size, sector or location."
To win an award, organisations must provide 10 extra paid days leave for Reservists and have supportive HR policies in place for veterans, Reserves, and Cadet Force Adult Volunteers, as well as spouses and partners of those serving in the Armed Forces.
Organisations must also advocate the benefits of supporting those within the Armed Forces community by encouraging others to sign the Armed Forces Covenant and engage in the Employer Recognition Scheme.
This year, organisations include NHS trusts, educational institutions, financial services, hotels, charities, law firms, police services, football clubs and museums. Nearly 50 per cent are a small or medium-sized enterprise and 72 per cent are private companies, demonstrating the wide range of organisations offering support to the military community regardless of size, sector or location.
The awards were presented at Edinburgh Castle by Chief of Defence People Lieutenant General James Swift.
Fife Chamber of Commerce Chief Executive Alan Mitchell said: "Everyone at Fife Chamber is delighted and humbled to receive this ERS Gold Award. We advocate for our Armed Forces and connect the Highland RFCA team with local employers because it is the right thing to do and because we believe we should acknowledge and be grateful for what our country's service men and women do for us every day. It feels great to have our efforts recognised and we will display our Gold Award with pride."
Highland Council's Armed Forces and Veterans' Champion, Councillor Roddy Balfour, said: "It is a great honour for Highland Council to have received the ERS Gold Award for supporting the Armed Forces community in our area especially during these difficult times of the pandemic. The continued support to Armed Forces personnel past and present and their families is vital to the wellbeing of our whole community."
Derek Petterson, Chief Executive Officer of McLeod Glaziers, said: "We are delighted to win the Gold Award, it means a great deal to the company. Even more so for me being former forces, with seven years in the Army. Owning a company and being in a position to employ former forces people past and present is an honour."
Councillor Chris Ahern, the Veterans and Armed Forces Champion for Perth & Kinross Council, said: "I am delighted that PKC has been awarded the ERS Gold Award in recognition of its commitment to the Armed Forces Covenant. There has been a tremendous amount of work put in by a small team of officers to get the application in, and through their hard work we have now been successful."
2021 is the first year that there has not been one national award ceremony. This is due to the high number of winners (140 in total). Following on from the Edinburgh event, next month there will be additional regional ceremonies held in London, Cardiff and Leeds.
To find out more about the Defence Employer Recognition Scheme, click HERE.
For a gallery of images from the evening, click HERE.
#GoldERS21
---