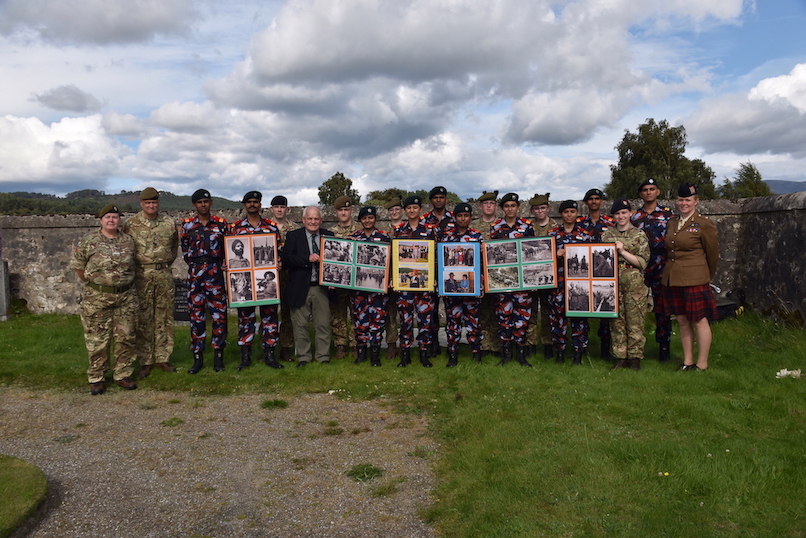 ---
Ten cadets aged 18-22 from the Indian National Cadet Corps Senior Division visited Scotland from August 6-14.
They were accompanied by Colonel Krishan Singh Badhwar and Major Chhaya Korwal.
Part of the group's activities included an August 7 visit to the Commonwealth War Graves at Kingussie cemetery, guided by Major John Patchett (Retd) ex-Gurkha Rifles (main picture, above).
The cadets then laid a wreath at the memorial to the soldiers of Force K6 in Scotland in Gynack Gardens, Kingussie.
The permanent memorial commemorates soldiers from the Royal Indian Army Service Corps (RIASC) and holds the names of 13 Muslims and one Hindu who died whilst in Scotland, now interred within local Highland communities. The men of Force K6 (later re-named the Indian Contingent) served in the AT (Animal Transport) companies of the RIASC during the Second World War.
They were joined by Major Heather Lawrie, the project officer for the creation of the memorial and Councillor Russell Jones of Armed Forces Covenant and Defence Employer Recognition Scheme Gold Award holder Highland Council who is seeking to develop more enduring links between different communities so that young people can learn the lessons from the past. Music was provided by Army Cadets Scotland.
Major Lawrie said: "It is a very special day indeed, as it also happens to be South Asian History Month. It is wonderful to see the cadets here, to bridge the generations."
The cadets were also able to thank local heroine Isobel Harling BEM, the British Legion Scotland officer who devoted seven decades to caring for the K6 soldiers' graves in Kingussie cemetery. They visited Mrs Harling, now 100 years old, at her home in the Wade Centre. They also had the opportunity to meet Mrs Harling's daughter Gaynoll.
Highland RFCA Head of Engagement Michelle McKearnon attended the wreath laying on behalf of the Association.
Other activities undertaken by the cadets included a visit to Fort George; tour of Culloden battlefield; Adventurous Training (AT) activities at Barry Buddon; a visit to Bannockburn and the Falkirk Wheel; and an Edinburgh Castle and Royal Edinburgh Military Tattoo trip. The Indian cadets were hosted by Lothian and Borders Battalion ACF.
◼︎ The Tri-Service Indian National Cadet Corps has a membership of over a million young people aged 13-22. It aims to develop character, commandership, discipline, leadership, secular outlook, spirit of adventure and the ideals of selfless service.
The Indian NCC Youth Exchange Programme takes place annually and involves cadets from 11 different nations. UK cadets have been to India on the last two Youth Exchange Programmes (Jan 2022 and Jan 2023). This was the first visit to the UK for the Indian cadets.
---