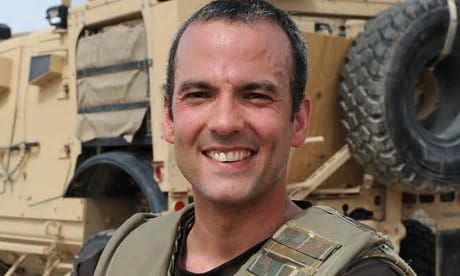 ---
Lt Col Al Jarvis recently took over from Lt Col Gregor Lindsay as Commanding Officer of Tayforth University Officer Training Corps (TUOTC).
He oversees three detachments based in St Andrews, Dundee and Stirling. TUOTC recruits students from Abertay University and the universities of Dundee, St Andrews and Stirling.
Tayforth UOTC provides a fantastic insight into the Army, and the training provides a challenging mix of leadership development, military skills, adventure training, sporting competition and Pipes and Drums.
The weekly evening meetings are by detachment but all detachments get together for weekend camps and two longer camps in January and June. With only 134 places across four universities an element of selection is necessary.
Lt Col Jarvis was fortunate to be awarded an Army sixth form scholarship and joined the reserves (the then TA) during his last year at sixth form and the first year at university. He gained a first class BSc (Hons) degree and a Cert Ed teaching qualification at Brunel University where he studied Industrial Design & Education. In order to gain an Army bursary he was asked to leave the reserves and join London UOTC where he completed the Module B course.
He met his wife Alyssa (Aly) at Brunel and they have two boys Ben (13) and Guy (10).
Lt Col Jarvis completed the regular Commissioning Course in 1997 and then the Royal Engineers Troop Commanders course. As a Troop Commander with 59 Independent Commando Sqn RE he supported 45 Commando Royal Marines. On promotion to captain he became the Squadron Operations Officer for 9 Parachute Squadron RE. In his second tour as a capt he became the 2IC for 23 Amphibious Engineer Squadron based in Germany. On promotion to major he commanded a squadron supporting 16 Air Assault Brigade. In a further command appointment he then worked closely with other nations, government departments and agencies working with a tri-service unit to support the local civilians in Helmand. On promotion to Lt Col he completed an MSTAR staff role in Army HQ.
He has completed several tours to Northern Ireland, one to Bosnia, one to Iraq during the initial 2003 invasion and two to Afghanistan. On exercise he has deployed to: Poland, Oman, South Africa, Cyprus, the USA, Canada and Kenya.
Built for endurance rather than speed he has enjoyed several long distance challenges, the pinnacle of which have been the: Marathon Des Sables, Lympstone to Poole race, Gurkha Trailwalker and a few Original Mountain Marathons.
He has also completed 199 successful free-fall parachute jumps.
Like many dads he spends his weekends at home ferrying the boys around to sports fixtures and Scouts. Both he and Aly enjoy running with their young Lab Bramley.
Highland RFCA welcomes him to the post and looks forward to working with him.
---