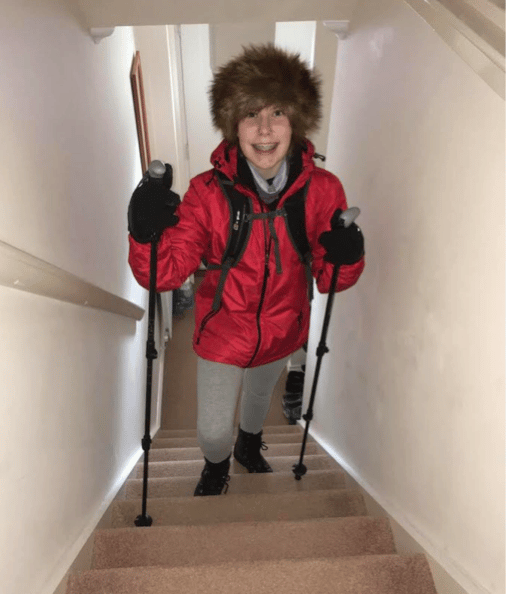 ---
A team of Robert Gordon's College Combined Cadet Force staff and cadets collectively channelled their innovation to raise funds for the Gurkha Welfare Trust.
The team accepted the Trust's fun challenge to virtually scale Mount Everest using their own staircases. In fact, they completed the mammoth task not once, but twice!
The Trust does tremendous work supporting Gurkha veterans, their families and communities in Nepal. Many former Gurkhas return there after giving years of service to the British Army and, along with their families, face hardship in their retirement.
Like all charities, the Trust has been severely affected by the economic downturn and logistical implications the pandemic has brought. Donations to the Trust have reduced and staff in Nepal have had to pause projects across the country. They are, however, still able to deliver vital financial and medical support to the most vulnerable veterans and widows.
Though the RGC CCF participants did not each climb the total height of the mountain, which was estimated to involve ascending the average household staircase some 3,300 times, or 40 times per day every day for 12 weeks, they accepted the team challenge, with staff and cadets of all ages participating. Some of the total was achieved on a Canadian staircase through the involvement of former CCF cadet and pupil Lt Karen Thomson, who is currently enjoying an extended stay living and working in Banff, Alberta.
Friend of RGC CCF, Honorary Lieutenant of the Queen's Gurkha Officers and of the Aberdeen Gurkha community, Menbahadur Gurung, said: "What fantastic news! May I congratulate all members of staff and cadets for their great achievement to conquer Mt Everest. It is not easy. Your sheer dedication, hard work and effort made this successful. More importantly the donation you have raised for the Gurkha Welfare Trust will bring happiness to the faces of people who are in need of desperate support in Nepal. Thank you for caring for the vulnerable and needy ex-servicemen and their families in Nepal.'
For information on the Trust go to: https://www.gwt.org.uk
---