---
The past three months (June-August) has seen the RAF Regiment Reserves not only battling COVID, but developing new and innovative ways to deliver training.
This has required all Regular and Reserve personnel to remain as flexible as possible, maintaining all outputs within a developing and ever-changing environment.
OP RESCRIPT support
From security taskings at RAF Lossiemouth and Kinloss Barracks to COVID testing in Yorkshire alongside the Army; the RAF Regt Reserves have been delivering continuously throughout the national crisis.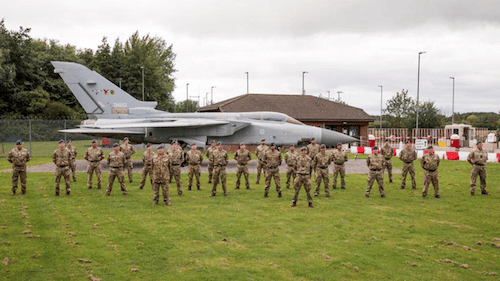 Whilst the Squadron was getting settled into the routine of delivering ground defence at RAF Lossiemouth and Kinloss Barracks it was quickly re-organised and sent to RAF Leeming at short notice. This was to support the Joint Military Command North East, which involved working alongside the 4th Regiment Royal Artillery and the Royal Horse Artillery on Mobile Testing Units. This was part of the national surge towards the 'test and trace' element of the UK Government response to the virus. Personnel conducted the task, with distinction with the public commenting on 'the professionalism of the RAF Regiment'.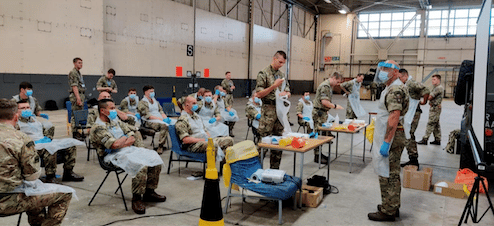 This was a team effort for the RAF and 2622 Squadron personnel worked alongside Regulars from RAF Leeming, and Reservists from 603 (City of Edinburgh) Squadron and 609 Squadron based at RAF Leeming. A testament to the versatility of Reservists who re-roled from Force Protection duties to COVID testing within two weeks, worked in Joint Service environment supporting the civilian population with professionalism, compassion and good humour.
Online training
Not allowing COVID to stop the Squadron from training they have made great strides in the ability to conduct essential, developmental and interesting training using Skype and Microsoft Teams. These platforms have been used to deliver interactive lessons for RAF Regt and RAF personnel on leadership and management, fighting within the Complex Air Ground Environment and for Basic Recruit Training Courses. This will undoubtedly continue to change as the UK deals with COVID, but will equally be used as a platform as they move towards 'normal training' weekends.  
SAC Imlah's Lord-Lieutenant's Commendation 
On the 21 July SAC Edward Imlah received a commendation from the Lord Lieutenant for his outstanding contribution to 51 Squadron in 2019. The commendations themselves are vetted through various levels to ensure that only personnel who have performed at the highest level receive these awards. SAC Imlah, who works as an MOD civilian employee in Logistics Support Squadron, worked with great initiative and little supervision doing an excellent job with ordering equipment for operations and then preparing if for air freight. This is a great example of how the RAF Reserves contribute to the daily business of the RAF, and displays the way in which experience and skills from civilian employment plus individual commitment and professionalism from Reservists add value to the Whole Force.
Here is an extract from the commendation: "Senior Aircraftsman Imlah's initiative and dedication in his role as a RAF Reserves Logistician provided 51 Squadron RAF Regiment with the specialist skills that enabled them to deploy successfully to Nigeria…'.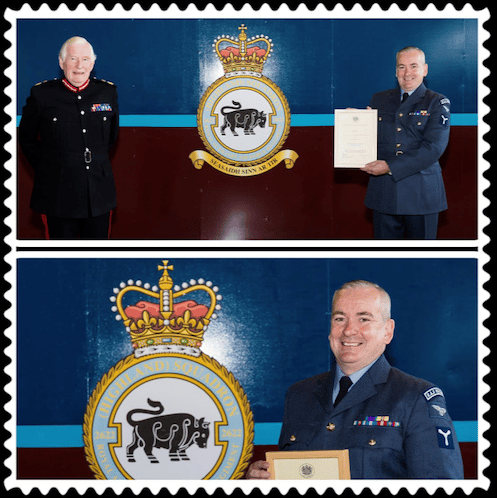 Basic Recruit Training Course RAF Halton
On 31 July, 2622 Sqn sent six recruits to Halton to complete their Recruit Training Part 2. This involves the consolidation of all the training they have received during the time at their Reserve unit including basic Force Protection, First Aid, fitness and assessments of their ethos and core values. It's a challenging two-week course, that required hard work and thorough preparation over six training weekends. Not only succeeding in passing the course, students went over and above and were able to grab the prizes for top student and best shot – congratulations!
The next three months
With Op RESCRIPT coming to a close some would think that it is time for the Squadron to take some well-earned rest. However, the largest training event of the year for the Squadron is taking place in September – Annual Continuation Training camp. This year on the sunny shores of Angus, at Barry Buddon Training Camp, the Squadron will train its Gunners as teams using live-firing ranges to increase the realism and so learn valuable lessons, ready for operations protecting air bases, aircraft and RAF personnel. This should be an exciting, tough, challenging and ultimately enjoyable experience for all.
If you would like the challenge of joining the RAF Regiment as a Reservist, then call Flight Sergeant Andy Stephens on 01343 810776 or search #2622 Sqn on social media.
Seasaidh Sinn Ar Tir – We stand our ground
---