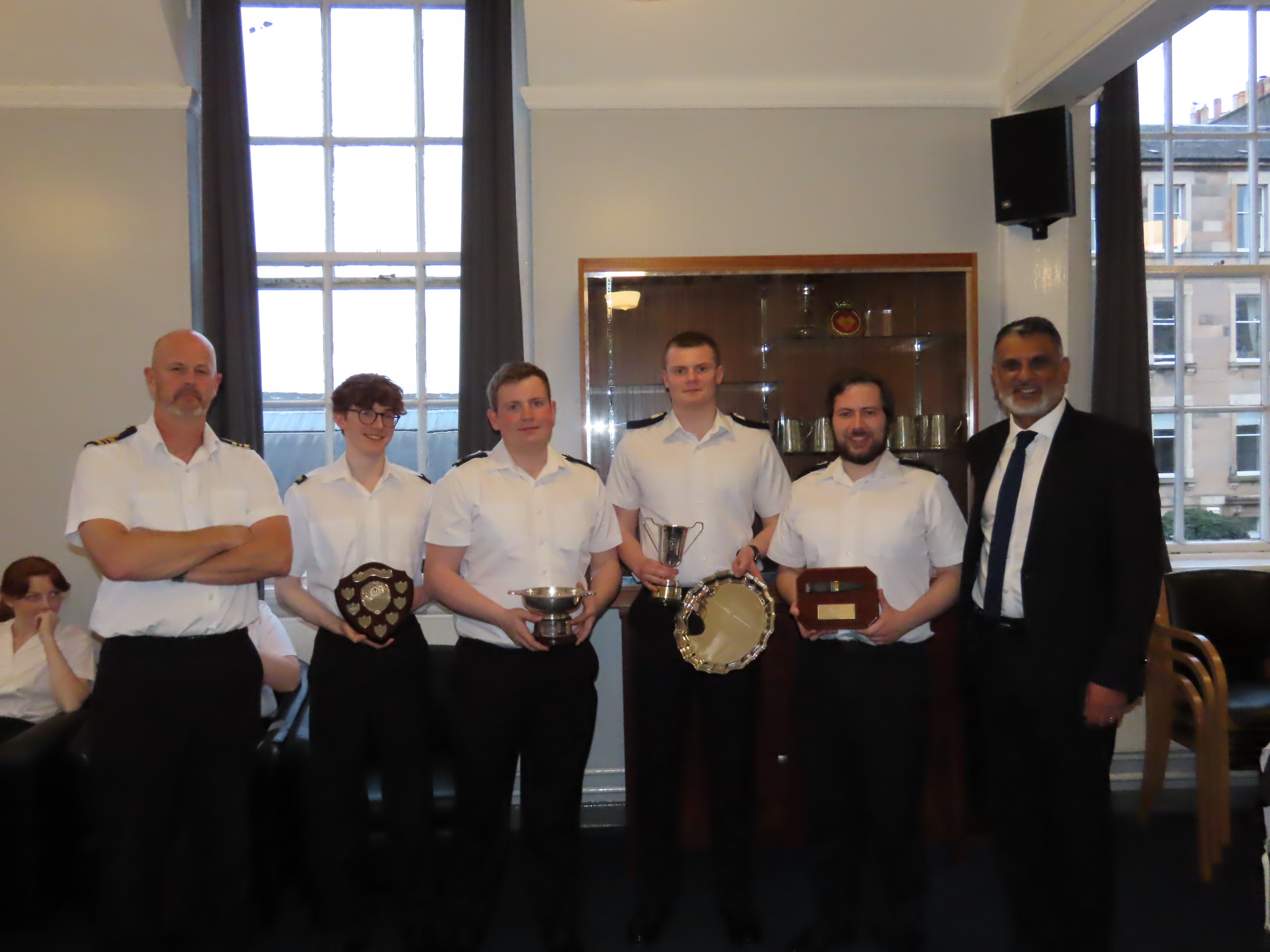 ---
The University Royal Naval Unit (URNU) East Scotland had a very busy period prior to universities in Dundee, St Andrews and Edinburgh breaking up for the summer holidays.
The Unit's final Drill Night was 30 May and, here, we reflect on what was achieved last term.
Officer Cadets were fortunate enough to attend the Annual Fleet Air Arm Camp held at Royal Naval Air Station Yeovilton from 24-27 April, pictured below.
The unit facilitated a Powerboat and Sailing Weekend at Stonehaven from 28-30 April for fourteen URNU ES Officer Cadets and seven of their counterparts from URNU Glasgow.
The Unit conducted its Annual Awards and Promotions on 2 May (main image, top of page).
The Unit enabled sport and activity in the Cairngorms, staying at Rothiemurchus Lodge from 26-30 June. It became a Scotland and Northern Ireland event with URNU's Glasgow and Belfast also attending. While the whole group spent the first day supporting some excellent charity conservation work on a nature reserve in the Cairngorms, individual activities on the following days included Munro 'bagging', paddle boarding, horse riding and trout fishing. The Officer Cadets also visited Fort George and Culloden Battlefield to learn all about the Jacobite uprising and Bonnie Prince Charlie. There was even a chance to take in a local whisky distillery.
Officer Cadets enjoyed visits to the French Frigate FS Chevalier Paul in Leith, and HMS Prince of Wales in Rosyth (that invite was supported by City Of Edinburgh Universities Officers' Training Corps and 6 Scots).
A rare privilege was afforded the Officer Cadets when they visited one of the UK's latest attack submarines, HMS Astute, in Faslane and learned about life in the Silent Service.
Eight Officer Cadets were deployed to HMS Charger (below). Departing HMNB Faslane on 14 July, the ship followed a scenic clockwise route around Scotland taking in the Hebrides, Orkneys, Inverness and then returning to HMNB Faslane on 3 August via Loch Ness and the Crinan and Caledonian Canals. The Officer Cadets were exposed to a variety of training serials and seamanship drills, working alongside the Ships' Company and gaining a valuable insight into life at sea.
A group of Officer Cadets took part in the Edinburgh Marathon on 28 May to raise funds for Poppyscotland. The Officer Cadets and their Commanding Officer Lieutenant Commander Nicholas Bates RN again supported Poppyscotland in Edinburgh City Centre with fundraising on Armed Forces Day on 24 June. The 18-strong group also supported the Cairngorms National Park Authority with a full day of charity conservation work on June 27 at a local nature reserve in Kingussie.
In addition to the raft of activities undertaken by the Unit, it was also the fortunate recipient of the HMS Dasher Award, presented by Knight Dame Mary Richardson at the Annual URNU Conference in June. The Award is for being the Outstanding Royal Navy University Unit, and was gratefully received by Unit Coxswain Chief Petty Officer Steven 'Squash' Court (below).
The Unit has been busy attending Freshers Fairs this month to promote the benefits of becoming part of URNU East Scotland. Hopefully this will mean lots of new faces at Drill Nights in Dundee and Edinburgh (connected via video link) for the next term on Tuesdays from 5 September to 12 December.
---