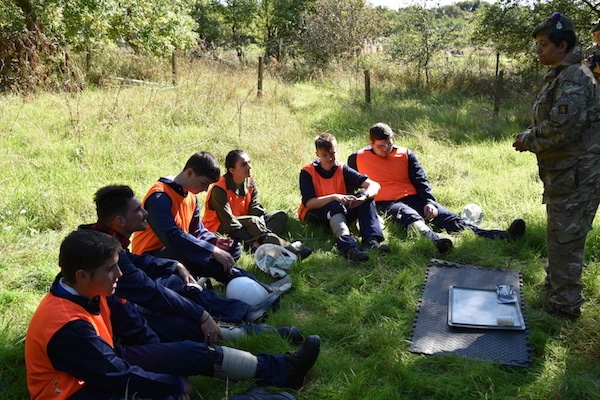 ---
Engineering students from Perth College UHI were at the Barry Buddon Training Area for military-themed team building and leadership training organised by 7 SCOTS.
The 5 September event was designed to further strengthen links between the college and 7 SCOTS and to raise the profile of the regiment within the student population.
More than 20 first and second year students enjoyed soaking up the sunshine while making their way around five challenging stands. They also learned of the many positive benefits and valuable transferable skills that can be gained during Reserve service along with hearing talks on healthy lifestyles and personal development opportunities.
7 SCOTS were supported by personnel from 3 SCOTS and 32 Signal Regiment, providing stands including an Airsoft target range, command tasks, first aid and casualty evacuation, and fieldcraft (which included the students cooking their own lunch from 24hr ration packs).
A Foxhound vehicle was provided which, given the students' course choice, was a perfect point of interest.
The freshers took to the tasks with enthusiasm and – despite none of them knowing each other – demonstrated good communication skills and leadership, growing in confidence as the day progressed.
The event will run again tomorrow, when a batch of third and fourth-year engineering students from the college take part.
---