---
Employees from all over Scotland were put through their paces at Exercise Executive Stretch during a weekend of leadership training at Redford Barracks in Edinburgh from 27-29 April.
Over 50 participants from a range of businesses took part to gain first-hand experience of the Reserve Forces and learn about the many valuable transferable skills which Reservists bring to their civilian employers.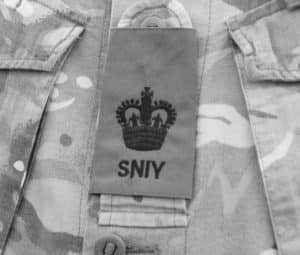 Arriving on Friday afternoon, the participants were fed and watered by the Scottish and North Irish Yeomanry – the Army's newest combat regiment – before learning some basic drill and cooking skills to prepare them for the challenges ahead.
A night in the barracks was followed by the shock of a 5am Reveille on Saturday and the teams headed out into the Pentland hills where the hard work began! Activities included a gun run with 105 Regiment Royal Artillery, gap crossing with 71 Engineer Regiment, minefield vehicle extraction with 154 Regiment RLC and a message decryption lesson courtesy of 32 Signal Regiment.
The teams also took part in emergency evacuation from a sinking 'ship', courtesy of the Royal Navy.
After a long day, the teams were then taken to their accommodation for the night – a woodland – where they were taught how to create a shelter, organise their kit and prepare their rations. Expert advice was provided by 6 Scots and a dry, if chilly night under canvas was had by all.
Day two was another early start and the teams returned to Redford Barracks for their toughest challenge yet; an energy sapping stretcher run and assault course.
The focus was very much on teamwork and, encouraged vociferously by their army instructors, the teams pushed, pulled and carried each other over the finish line to huge cheers from their employers and friends.
Once they had got their breath back, the teams had a welcome hot shower and change of clothes in time for the closing ceremony and prize giving.
Lt Col Toby Gaddum, Commanding Officer SNIY, praised the participants for their hard work and enthusiasm, and thanked the many service personnel who had put so much time and effort into making the event such a success.
A buffet lunch was provided to round off the weekend, and the buzz and laughter as the teams mingled and congratulated each other showed how much everyone had enjoyed the weekend, with lots of new friendships and business contacts having been made.
Georgia Dunk and Lara Mackay of Moray Chamber of Commerce were among those taking part.
Georgia said: "Without a doubt this is a training course not to be missed. Lara and I learned so much from this experience from basic soldiering skills to what it's like to be in the Reserves, but most importantly our strengths and weaknesses within a team environment. I would recommend that any organisation sends staff to Executive Stretch next year.
"The skills Armed Forces Reservists learn from their training and ongoing experiences would benefit any workplace and the gains to both the individual and the employer are fantastic. The Reserve Forces do fantastic work and Lara and I both left seeing the benefit of joining, even if it would mean having to survive off military standard ration packs again!"
Highland RFCA's Ron Macgregor, one of the event organisers, said: "The aim of Executive Stretch is to demonstrate to employers the wide range of skills that Reservists can bring to the workplace, and for their employees to have the opportunity to develop their leadership and teamwork skills in a unique training environment. It is a great experience for all concerned and the teams taking part have really done themselves, and their employers, proud."
If your business would like to find out more about engaging with Defence, employing Reservists, Veterans or Military Spouses, or about working with Cadets please contact Highland RFCA at hi-reed@rfca.mod.uk for more information about how you can get involved.
Too see more images from the event, visit our GALLERY section.
---