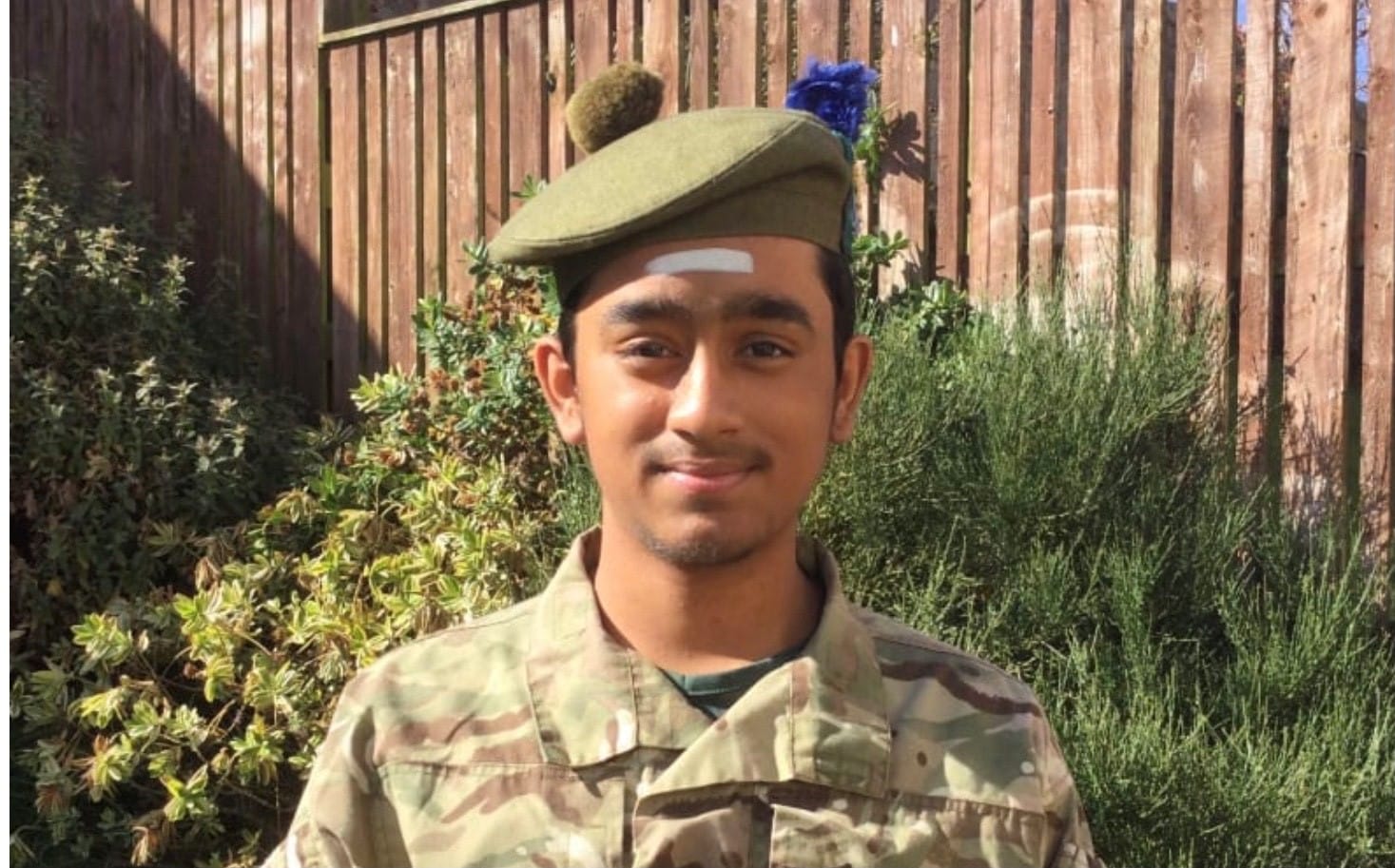 ---
Cpl Anish Subramaniam has been appointed Lord Lieutenant's Cadet for the City of Aberdeen 2021-22.
Anish is a pupil at Robert Gordon's College in the city and a cadet with the school's Combined Cadet Force (CCF). He will take up his new role for a year. During that time he will assist Lord-Lieutenant of Aberdeen Barney Crockett in his official duties as Her Majesty The Queen's appointed representative to the area.
Anish inspires others to do their best and has been a key figure in motivating and acting as a role model for younger cadets, immersing himself in all the opportunities the CCF offers.
Determined to participate in all CCF activities which took place during lockdown, he was an enthusiastic contributor to RGC's Gurkha Welfare Association Mount Everest Challenge and more recently he took part in the Walking With The Wounded: Walking Home for Christmas initiatives. Anish has worked hard to achieve his Silver Award in the Duke of Edinburgh Scheme and is currently working towards his Gold Award.
His involvement in school life is quite remarkable. He has made outstanding contributions in areas including the UKMT Team Mathematics Challenge, the British Brain Bee Neuroscience Competition, Debating and Chess up to international level. He has also represented the school in Maths in the Pipeline and in S3 and S4 he took part in the BBC School News Report. A keen sportsman, he was selected for the Caledonian Highlanders cricket team during the 2019/20 season. He has regularly been selected as an outstanding student to be the spokesperson for the school or his peers at events such as Open Days.
In 2019, Anish was involved with the production of the new prospectus, highlighting key aspects of the College. He is a member of the Student Representative Council and became Chairperson in S4, while also joining the school's Eco Group.
Giving back to the wider Aberdeen community plays a significant role in Anish's life. He feels that this provides him with opportunities to develop important skills and serve others. He is an active member of the Scottish Interfaith Group and has written a report called "COVID-19 and Spirituality" based on people's experiences of lockdown, while compiling a well-received survey aimed at numerous people of different ages, faiths and backgrounds across Aberdeen. He also participated in the 2019 Kiltwalk, running 15 miles for Aberdeen Cyrenians while also writing an essay about homelessness.
It is particularly telling that, reflecting on what the CCF has meant to him, Anish counts gaining in confidence, developing lasting friendships and being exposed to the military core values such as respect, resilience, commitment and service.
He has described his CCF experience as an 'invaluable journey that I am truly grateful for having experienced'.
To find out more about the CCF, click HERE.
---