---
Wasted Degrees Brewing was presented with the Armed Forces Covenant and Defence Employer Recognition Scheme (ERS) Bronze Award on 3 October.
Founded in 2016, Wasted Degrees Brewing is owned by two local brothers, Conall and Jack Low. The brewery produces craft beer from its 100% renewables powered brewhouse in Blair Atholl.
Underpinned by a strong sense of social and environmental responsibility, it supports and creates job opportunities for the local community. It also makes a concerted effort to reduce the food waste and miles in its supply chain. The team works with local suppliers to innovate with recipes and to create partnerships in order to use beer as a fuel for driving sustainable local economic value.
Now in its fifth vintage year, the annual Wasted Degrees cider has become a local community collaboration. Throughout harvest season during late-August to October, the brewery becomes a hub for collecting apples and pears. In 2019, the brewery realised that the local area had a wealth of apple trees, but that a great deal of the fruit was going to waste. The donated fruit is used to create a cider. The remaining pulp is then put to use for feeding local livestock. So far, the company has saved 10 tonnes of apples!
Highland RFCA's Head of Engagement, Michelle McKearnon, and SO2 Engagement Coordinator of HQ 51 Infantry Brigade and Army HQ Scotland, Lieutenant Colonel (Retired) Mike Onslow, visited the Perthshire village to present Wasted Degrees with the Armed Forces Covenant and ERS Bronze Award. Lieutenant Colonel (Retired) Mike presented both certificates to co-owner Jack (pictured in main image) and co-signed the Covenant on behalf of the Ministry of Defence.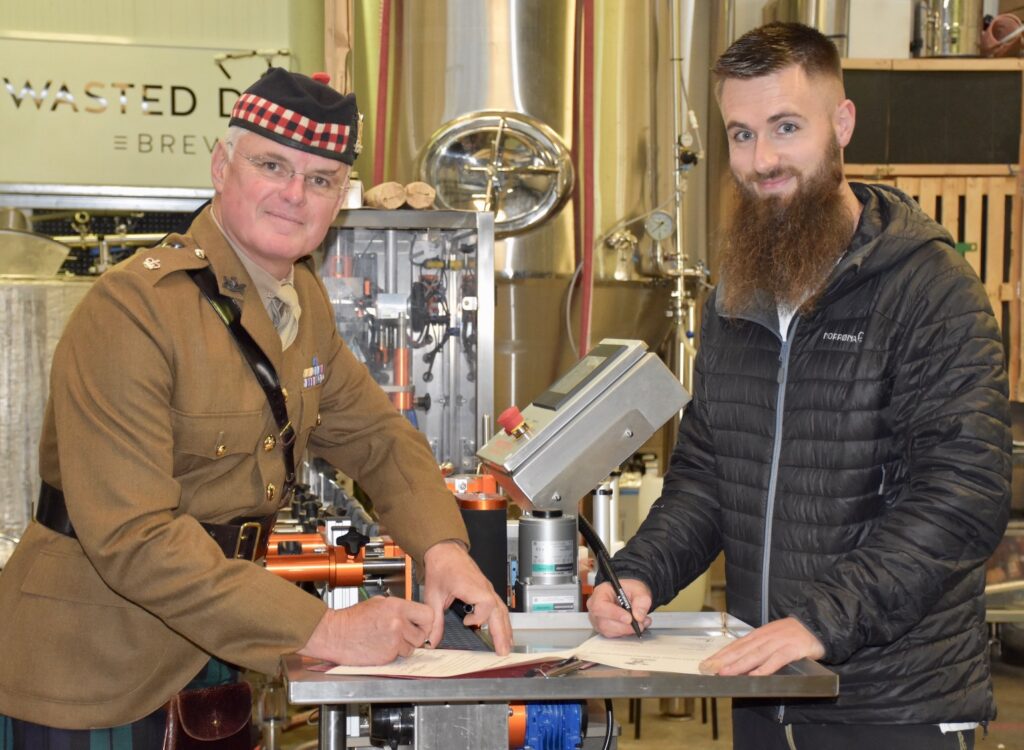 Wasted Degrees Brewing first signed the Armed Forces Covenant in July 2023. By signing the Covenant, it has become one of the 10,000+ organisations to pledge support to the Armed Forces community.
Its commitment to honouring the Covenant includes pledges to:
Promote the fact it is an Armed Forces-friendly organisation.
Support the employment of Veterans as well as Service spouses and partners.
Support employees who are members of the Reserve Forces and cadet organisations.
Support Armed Forces Day, Reserves Day, the Poppy Appeal Day and Remembrance activities.
Support Armed Forces charities.
It also received the ERS Bronze Award, after having first attained it in September 2023. The ERS Awards encourage employers to support Defence and inspire others to do the same. The prestigious Bronze, Silver and Gold Awards are for employer organisations that pledge, demonstrate or advocate support to Defence and the Armed Forces community, and align their values with the Armed Forces Covenant.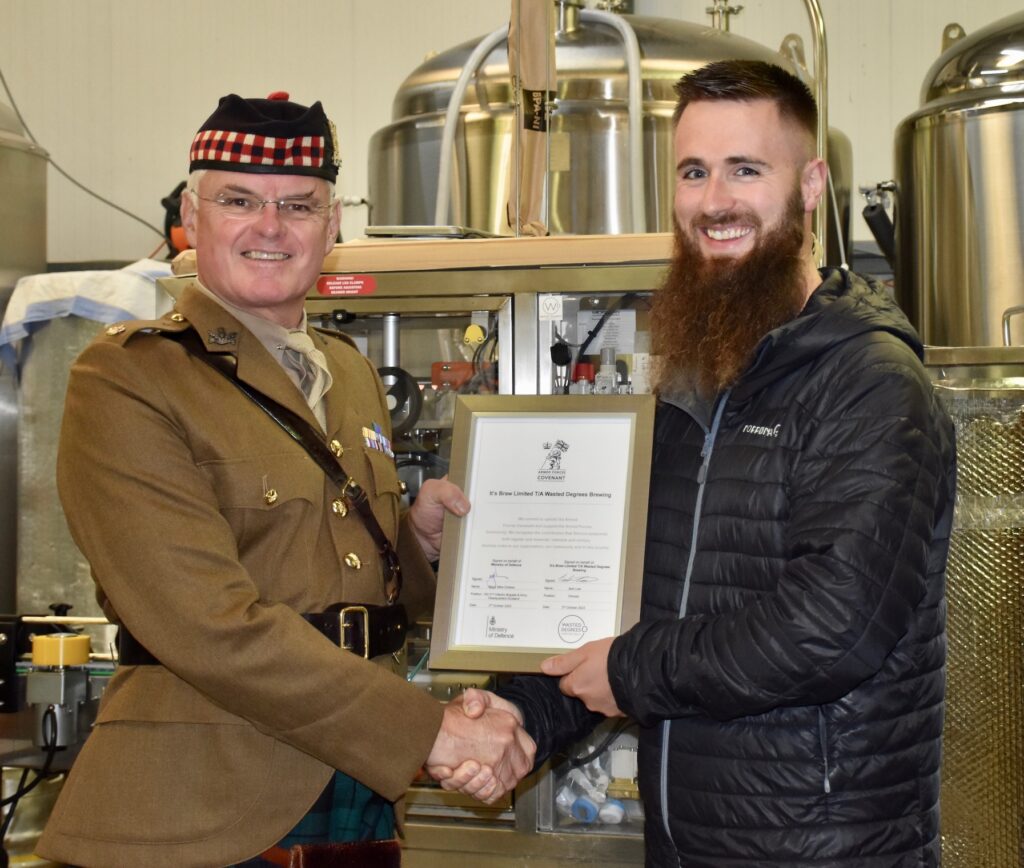 Ahead of the official Covenant signing and Award presentation, Michelle visited Wasted Degrees Brewing on 12 July. The meeting was about a special commemorative project for the 80th anniversary of the liberation of St Valery in September 2024. The project will be a collaboration between two Armed Forces Covenant signatories and ERS Award holders in the HRFCA-area. Wasted Degrees will produce a commemorative beer, and Covenant signatory and ERS Silver Award holder, G.H.Q. Spirits, will produce a commemorative gin for the occasion.
On 11 September, Michelle dropped by Wasted Degrees with HRFCA's mascot, Sergeant Major George, to pick up some of the draft commemorative labels and sample beers.
Jack and Conall will also be supplying photographs and memorabilia from their grandfather's story to a temporary exhibition that will be part of the commemorations next year. Michelle said: "Jack and Conall's grandfather, Jack Low, fought with the 51st Highland Division in the Second World War. He was one of hundreds of Scottish soldiers taken prisoner at Saint-Valery-en-Caux in June 1940. These soldiers remained as prisoners of war in camps across Eastern Europe for up to five long years, waiting for their release and repatriation. Jack Low survived to return to Scotland and pass down his story to his son and grandsons.
"Next year will see the 80th anniversary of the liberation of Saint-Valery-en-Caux, which took place in September 1944, several months after the D-Day landings. To commemorate this, and as part of the strong ties between the Highlands of Scotland and the people of St Valery, Wasted Degrees is producing a limited edition beer at its microbrewery in Perthshire. Profits from the sale of this beer will go to Poppyscotland and its equivalent organisation in France, Le Bleuet (cornflower) de France."

To find out how you can support the Armed Forces, contact HRFCA's Regional Employer Engagement Directors Roy McLellan at [email protected] or Ray Watt at [email protected].
Find out more about the Armed Forces Covenant.
Find out more about the Defence Employer Recognition Scheme.
Find out more about Wasted Degrees Brewing.
---