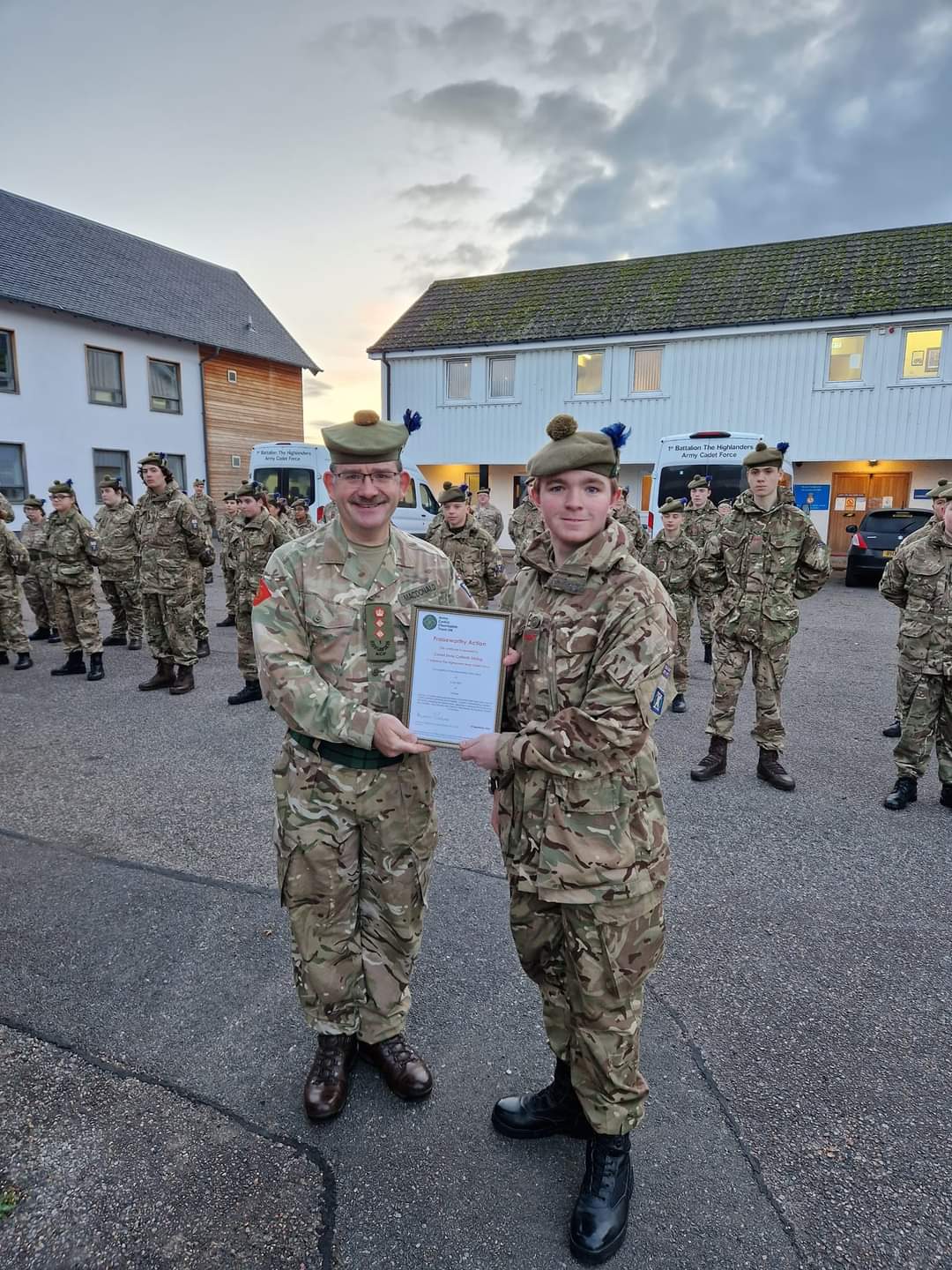 ---
An Army Cadet from the Dingwall area was recently recognised for his actions in managing a First Aid incident.
Cadet Ennis Cotterill-Stirling (16), from 1st Battalion The Highlanders' Dingwall Detachment, was presented with an Army Cadet Charitable Trust UK Praiseworthy First Aid Certificate.
Cdt Cotterill-Stirling was nominated for the award by his Detachment Commander for his quick thinking in providing First Aid on a fellow cadet during an Adventure Training day.
A group of cadets took part in a Mountain Biking experience at their Battalion's Annual Camp back in July. During the cycle one of the cadets fell off their bike, causing some cuts to their nose which also started bleeding.
Before the instructor even got off their bike to take out the group First Aid Kit, Ennis was already on hand applying First Aid using his own personal kit which he was carrying in his backpack. After a quick assessment of the injured cadet by the Adult Instructor, Cadet Cotterill-Stirling cleaned the injured area, applying a dressing and reassuring the casualty. This allowed the Instructor the freedom to manage the incident.
Ennis remained very calm throughout and applied excellent First Aid skills to the injured cadet, including injecting a degree of humour into the situation when he asked the injured cadet if he would prefer a 'plain' or 'dinosaur' plaster to secure the dressing. The casualty went for 'dinosaur'.
Dingwall Detachment Commander, Company Sergeant Major Instructor Craig MacIver, said: "On the day Cdt Cotterill-Stirling was a great asset to his fellow cadets and Instructor and his praiseworthy actions should be recognised."
Ennis was presented with his certificate by the Battalion's Commandant Colonel Mike MacDonald at the Battalion's Cadet Training Centre in Dingwall (pictured, above).
---