---
Last week, one of our Employer Recognition Scheme Gold Award winners, IED Training Solutions Ltd, won the Business of the Year Scale Up Award in the Soldiering On Awards virtual ceremony.
IED Training Solutions Ltd was set up in 2015 by two former Royal Marines SNCOs, Ian Clark and Paul Barrett. Both were serving in 2009 when Paul stepped on an Improvised Explosive Device, causing catastrophic life changing injuries. Ian was responsible for calling in the helicopter that saved Paul's life.
Using their experience of risk management in hostile environments, the company offers accredited training and consultancy services. The primary focus is on Health & Safety, mental health and trauma management globally. IED has a global client base and is the first UK training consultancy to deliver Institution of Health and Safety (IOSH) approved safety training in Afghanistan. The IED team utilise their uniformed services background to provide credible and authentic training solutions.
Ian said: "The company name – IED – stands for Inspire, Educate, Develop. A determination existed to ensure the company name embodied the spirit and resilience that had been a feature of our military careers."
Here in the UK, its customer base is increasing and includes transport, shipping and local authority clients. Ian and Paul's military background was key when The Gamekeeper Welfare Trust (GWT) approached them after two young keepers had committed suicide. In collaboration with GWT, IED developed the STAG program (Set Goals, Take Action, Awareness, Get Talking). This wellbeing workshop has now been delivered to 20 major sporting estates throughout the UK.
IED employs several Veterans and continues to support the Armed Forces, for which they were recognised with the ERS Gold Award last year. They signed the Armed Forces Covenant in 2017.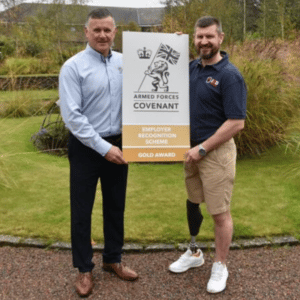 They were the only Scottish finalists in the Soldiering On Awards Business of the Year Scale Up Award category. The Award, sponsored by The London Stock Exchange Group, honours a business that was established over two years ago, started by an individual linked with the Armed Forces who still retains a minimum of 51% interest in the venture.
Ian said: "The IED team found out that they had been nominated as a finalist in the Soldiering On Awards in January, however the COVID-19 pandemic restrictions saw the planned award ceremony put on hold. The Soldiering On Team then did a sterling job in organising a virtual ceremony last week. There were an array of distinguished guests in attendance from Military and Broadcasting backgrounds. We were nominated in the Business of the Year Scale Up Award category alongside extremely worthwhile finalists, Geollect Ltd and ThorpyFx Ltd, and it was with much surprise and delight that our name came out of the winners envelope. We are extremely proud of our military heritage and to be recognised by the Armed Forces community as the very best of the best, it doesn't really get any better than that. Awards such as these are only possible due to the team you have around you and everyone has played a key role in ensuring that IED remain at the forefront of their service provision."
HRFCA Head of Engagement, Michelle McKearnon, said: "Everyone at HRFCA is delighted at the latest success of IED Training Solutions Ltd. We have worked with them from the first signing of the Armed Forces Covenant to Bronze, Silver and, last year, the ERS Gold Awards. We are proud to have them as allies and advocates for Defence. They are unstinting in the time and energy they give to us and to other businesses, and this is an extremely well deserved reward which recognises the achievements of the company as it continues to go from strength to strength."
To visit IED Training Solutions Ltd, click here.
To find out more about the Soldiering On Awards, click here.

---