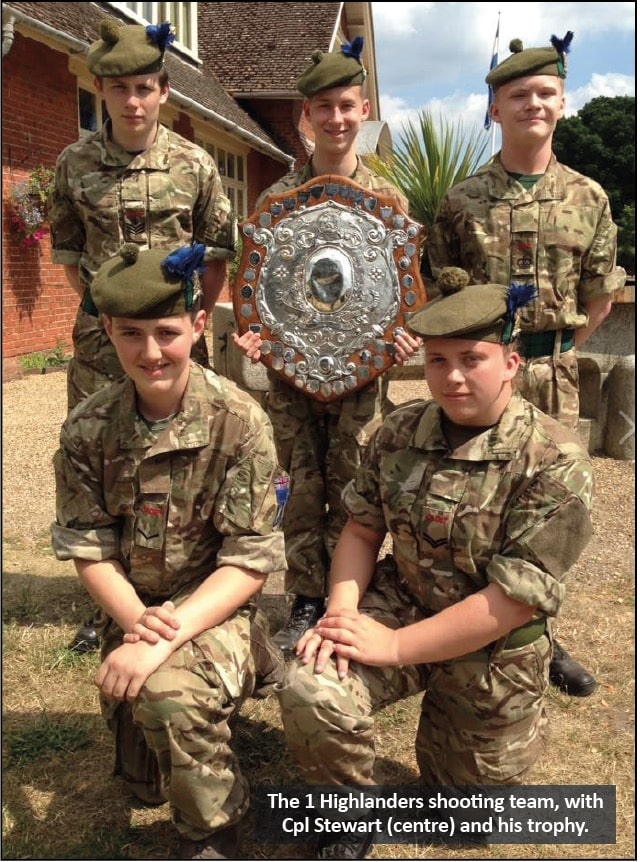 ---
Cadet Corporal Euan Stewart (16), from Inverness Detachment, 1st Battalion the Highlanders, has shot to success after representing the Battalion at the Inter-Service Cadet Rifle Meeting at Bisley Ranges, Surrey.
Euan was one of five cadets to represent the battalion at the three-day competition, competing against 90 teams – 326 cadets in total – from across the UK, Canada and Hong Kong. Cadet Company Sergeant Major Corran MacKenzie (17), Cadet Corporal Rhianna Russell (16), Cadet Lance Corporal Darren Stuart (15) and Cadet Colour Sergeant Scott Dawson (17) shot alongside Euan on the Cadet Target Rifle at the 300, 500 and 600 metre ranges.
At the end of the three days the Battalion team was placed 23rd overall, their highest ever. The rifle meeting is a team-based competition, however, there is an individual aspect to it as well, with each cadet competing in the Cadet 100 – the pinnacle of cadet shooting – to be one of the top 100 shooters in the Cadet Forces. Cpl Stewart placed 35th.
Being in the top 100 was not the high point of Euan's day, during the trophy presentation it was announced that he also came 1st in the Patriotic 500 Competition, for the 500 metre shoot, earning the Battalion's first ever trophy at Bisley.
Euan's trophy was one of two which returned to Scotland, with Glasgow & Lanarkshire Army Cadet Force winning the Patriotic 300 competition for the 300 metre shoot.
---