---
Earlier this year a group of British Army regulars and reservists made history by becoming the first all-female expedition to trek across Antarctica on foot.
Major Nicola Wetherill, Major Natalie Taylor, Captain Zanna Baker, Lieutenant Jenni Stephenson and reservists Major Sandy Hennis and Lance Sergeant Sophie Montagne arrived at Hercules Inlet in January, 62 days after setting out.
The 'Ice Maidens' had traversed 1704km of icy plains in 60mph winds and temperatures as low as -40C, using only skis and their own muscle power to drag sledges weighing up to 80kg.
LSgt Sophie Montagne is a section commander in the Honourable Artillery Company Army Reserves Regiment.
Here she shares part of the adventure.
As we touched down on the blue ice runway of Union Glacier base camp and the Ilyushin plane's doors opened, we braced ourselves for that first blast of the Antarctic chill. But it wasn't the cold, it was the blinding light that shocked me, the fierce, frozen sun that reflected off the ice, the snow and everything it touched. Here we were, after two years of training, team selection, dragging a tyre across London for my daily commute and jumping into Swiss crevasses to practice enabling a rescue. The Ice Maidens were finally in Antarctica.
THE TEAM
A six-woman team, we were hoping to become the first female team to complete a trans-Antarctic crossing – skiing 1704km coast-to-coast using muscle power alone. Only 20 people had ever recorded this feat and we were hoping to write the women of the British Army, and especially the Army Reserves, into the record books. The team was led by Maj Nics Wetherill who dreamed up the idea, and she was joined by Maj Nat Taylor, Capt Zanna Baker, Lt Jenni Stephenson and the two Reservists Maj Sandy Hennis and myself, LSgt Sophie Montagne, flying the flag for the ranks, the Reserves and for the HAC.
DELAYS, DELAYS, DELAYS
We planned to stay at Union Glacier base camp a couple of days to test kit, acclimatise and then get on our way. We were one of the first expedition teams to arrive in Antarctica, but it turned out we were the last to leave. We had a six-hour Twin Otter flight to our start point on the other side of the continent, but winter was lingering longer than usual and we couldn't get the weather patterns to match up. So we waited. And waited. The Antarctic summer is just three months long and we needed 75 days to complete our Antarctic crossing, so every day spent in base camp was another day lost on the ice.
THE ADVENTURE BEGINS
In the end the Norwegians were offered the first flight slot, but storms pinned them down in their tent for six days – a delay that eventually cost them their expedition. We ended up waiting 15 days in base camp with despair creeping in until, at last, on 19th November we took down our tents, packed up our pulks and set off for the start. At our first refuel point we and the Twin Otter camped overnight to wait for the weather to clear, so it wasn't until lunchtime on the 20th January that we touched down on the Ross Ice Shelf and took the first steps on our journey. Waving goodbye to the plane, we had that awesome feeling that we were completely on our own, thousands of miles from a living soul and the adventure was about to begin.
We skied 16km that first day, crossing the invisible line from the ice shelf onto land which marked the start of our continental crossing. The weather was a balmy -10C and as we pitched camp for the first time, we were so excited to finally be on our way. And then the storm hit.
BATTEN DOWN THE HATCHES
We woke up the next day to white-out conditions and a furious wind. After a couple of hours the wind was so strong that I could hardly stay on my feet and Nics made the call to pitch tents. The weather report from base camp said "Batten down the hatches, it's about to get worse". So there we were, trapped in our tents for two days, and this was when our military training kicked in. The visibility was so bad that we couldn't see from one tent to the next, so we set up a comms cord to follow. Unlike in a harbour area, if somebody wandered by even a couple of metres they would be lost like Titus Oates. We also set up a stag rota to go out and check the tents every hour to make sure they were properly secured and not getting buried in snow. During the storm the wind reached 100kph which is far more than our polar tents had been tested to, so losing them was potentially life-threatening.
Eventually the storm passed and we were back on our way, but it had been another expensive delay. When we had set off we had just 68 days of Antarctic summer to complete a continental crossing that we expected to take 75 days. Now we'd just lost another two days and were seriously doubting that we'd have time to complete the expedition.
As we passed through the mountains we had our first experience of the raging katabatic winds, and started to climb the Leverett Glacier taking us from sea level up to the polar plateau at 3000m. With full pulks, the altitude, the gradient and the crevasse risk, this was the section we'd all dreaded. The climb was relentless but our extensive training in the mountains of Norway had paid off as it wasn't as steep as we'd feared. Nevertheless, another hurdle was thrown in our path. Sandy went down with, in her words, "man-flu" – you know, the lethal kind. Devoid of energy it took every ounce of strength to keep moving, but we didn't have time to stop and let her recover. We took all of the weight out of her pulk and divided it between the rest of us while she fought the mental demons that were telling her to quit. We'd all agreed that it wasn't about a team getting to the finish, it was about the whole team, every single one of us making it to the end, so there was no way we were going to call in a cas-evac or leave her behind. After a week Sandy pulled through in an absolute triumph of mental strength, and we trekked on towards the South Pole.
Finally, on 16th December we arrived at 90 degrees South and, as the temperature hovered in the minus 30s, gathered around the silver globe for the mandatory South Pole photo. Although it was mind-blowing to be standing at the bottom of the earth, I was aware that for most expeditions this is the end of their journey, whereas we were less than one third of the way through. We still had 1200km to ski…
Many thanks to the Ulysses Trust for this article. Read what happened next in the full report at: www.ulyssestrust.co.uk
Photographs © Crown copyright 2018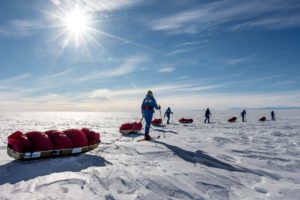 ---