---
Twenty-one cadets from 1st Battalion the Highlanders represented the Battalion at the Army Cadet Force Association Scotland Swimming Competition, held at Tollcross International Swimming Centre in Glasgow.
The team was made up of cadets from across the Battalion, competing against others from across Scotland. Overall the battalion did very well, with the team returning north with 16 individual medals and one trophy. The Battalion also has five new Scottish Champions who came first in their events.
In the team event the Senior Girls won overall, winning the trophy – with the Senior Boys team finishing second overall and the Junior Boys third.
For some cadets this was the first time they had represented the Battalion in sports, and for others this was the last.
Sergeant Rebecca McConnachie (17), of Inverness Detachment, was representing the Battalion for the final time.
After the event she said: "I am disappointed that this was my last year, but I was very fortunate to have left with two medals."
She added: "I was very proud of the senior girls' team winning the overall trophy and it was good to catch up with old friends from neighbouring battalions."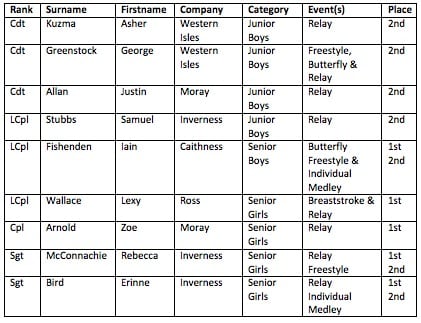 ---