---
Armed Forces personnel and cadets have played a huge part in supporting the manufacture and distribution of Personal Protective Equipment by 3D printing vital PPE components during the coronavirus pandemic.
The Royal Navy, the Army and Royal Air Force have tapped into their creativity to help the NHS with the sudden high demand of PPE. A Royal Navy engineering officer, Warrant Officer Scott Barnett, led a campaign to make 10,000 face visors. He works at Royal Naval Air Station Culdrose where he was inspired to start 3D printing PPE from home in Mullion, Cornwall. He decided to team up with his family as well as a group of people online who shared Scott's passion. Together, they have produced around 10,000 masks that were given to doctor's surgeries, pharmacies, care homes and charities in Cornwall. Scott said: "We're just doing our small part just to try and help get over this crisis."
The RAF Odiham's Chinook Support Centre is manufacturing and distributing supportive clips for face masks to NHS workers. The CSC Team received a request from the 3D National Printing Society to manufacture supportive clips to reduce discomfort when wearing elasticated face masks. The 3D printer at RAF Odiham is normally used for Service Modifications and Special Fits for the Chinook aircraft, but now its purposes have been innovatively adapted.
Army soldiers from 22 Engineer Regiment have also contributed by producing PPE masks for the NHS staff. They were printing terrain models and training aids before the coronavirus outbreak, but are now focusing on producing PPE in order to help health workers. Captain Ben Turner, an Intelligence Officer at 22 Engineer Regiment, said: "For the last 12 months we have been encouraging personnel to bring innovation to how we work and the skills learnt are now enabling us to contribute in a small way to the protection of our frontline workers who are doing an amazing job in treating Covid-19 patients."   
Cadets have also stepped up and adapted their innovative skills to help with the manufacturing of PPE. Cpl Ciaran Cook from Regimental Band of The Black Watch Battalion Army Cadet Force and 1st Tulliallan Company Boys' Brigade 3D printed face mask holders for the staff at NHS Forth Valley Royal Hospital.
Another Army Cadet, Cadet Chris Johnson (15) from Cheshire ACF, is using a 3D printer at home in Warrington, Cheshire. He is using his own initiative to design, produce and distribute protective visors to be supplied to the NHS staff. Chris came up with the idea himself as the issue is close to his heart due to his aunt, Joanne Eccles, working as a nurse practitioner at Royal Preston Hospital on top of being a deputy commandant of Lancashire AFC. He is able to produce up to 30 PPE masks per day from his home which have been delivered to hospitals in Warrington, Lancashire and a maternity unit in Oxfordshire.
Additionally, Army Reservists have responded to calls to assist the NHS by delivering PPE to the frontline. Armed Forces personnel and cadets have shown their resilience, motivation and innovation during this unprecedented time, which is helping many healthcare workers at the frontline.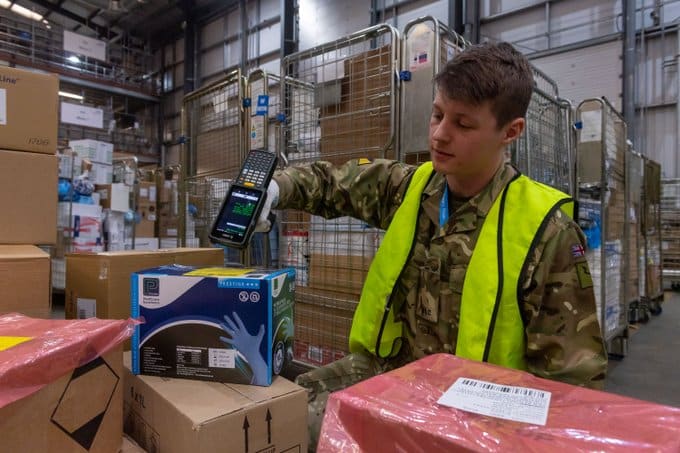 ---