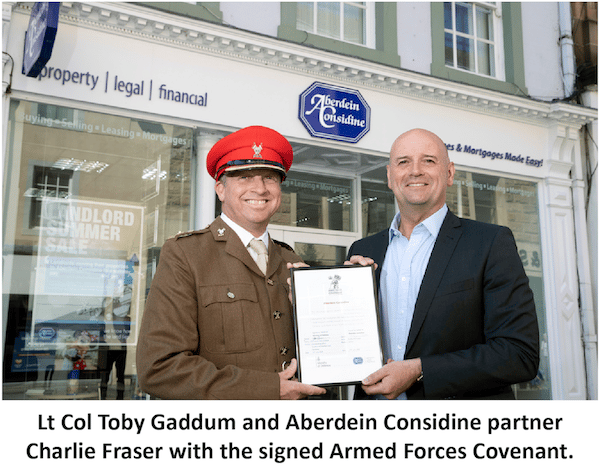 ---
Leading law firm Aberdein Considine has become the latest organisation to sign the UK Armed Forces Covenant.
In doing so Aberdein Considine has made a commitment to support the country's servicemen and women wherever and however it can and to ensure no member of the Armed Forces should suffer any disadvantage as a result of their service.
The 27 June signing on Reserves Day – by Charlie Fraser, Partner at Aberdein Considine – took place at Aberdein Considine's office in Perth. The document was co-signed on behalf of the Ministry of Defence (MoD) by Lt Col Toby H M Gaddum VR, Commanding Officer of the Scottish and North Irish Yeomanry (SNIY).
Aberdein Considine's commitments to honouring the Covenant include pledges to:
Promote the fact it is an Armed Forces-friendly organisation.
Strive to support the employment of Service spouses and partners.
Seek to support employees who choose to be members of the Reserve Forces including by accommodating their training and deployment where possible.
Offering support to local cadet units, either in the local community or in local schools, where possible.
Offering a discount to the Armed Forces Community
Aberdein Considine is a full service property, legal and financial firm, with 20 offices across Scotland and Newcastle. It is also Scotland's largest solicitor estate and letting agent.
The Covenant signing was organised by Highland Reserve Forces' and Cadets' Association and attended – along with the signatories – by the organisation's Regional Employer Engagement Director Michelle McKearnon.
Michelle said: "We are delighted that Aberdein Considine has pledged their support to the Armed Forces family and we very much value their commitment. We are looking forward to working in partnership with them, andt is wonderful to be able to celebrate their support on National Reserves Day."
More than 2500 UK organisations have now signed the Armed Forces Covenant.
Charlie Fraser, Aberdein Considine said: "It's a real privilege and honour to play a part in helping our Armed Forces through the UK Armed Forces Covenant. It's fantastic that Aberdein Considine is backing this incredible initiative which provides valuable support to all those involved with the Services both at home and abroad. This enforces a commitment already made by being an Employer Recognition Scheme Silver Award Holder for our commitment to supporting those with a Reserve career."
Tom Ham, Independent Financial Adviser at Aberdein Considine, and a Reservist with the SNIY added: "Both Aberdein Considine and the Army have allowed me to enjoy two challenging and interesting jobs, which wouldn't work without co-operation from both. I'm very proud that my civilian employer is extending that support to other members of the Armed Forces."
---